"Even if you're right, even if there are... aliens and superheroes, why does it have to be me? [...] I'm adopted. I was always moving around because of my dad's job. Most of the time I was the only Black girl in my town or in my school. My whole life has been about being different and now I'm supposed to... accept the fact that I'm literally an alien from outer space. I just want to be normal."
Naomi McDuffie is the titular character on The CW's superhero drama Naomi. She is portrayed by Kaci Walfall.
Naomi is an effortlessly cool and confident 16-years-old high school student. Popular throughout her military town, Naomi is unafraid to embrace her AP-student, six classes in total,[1] comic book–loving nerdiness. She runs the third most popular Superman fan site in the world,[1] and when a supernatural event leads to the discovery of her hidden powers, Naomi pursues her mysterious destiny.
Biography
Discovering her powers
Naomi attends a party at Nathan's with Annabelle, where they discuss her obsession with Superman and how she dumped Nathan after five dates. The following day, she skateboards to school and greets Anthony in the hall, who reveals that he didn't attend the party because Nathan sent him the wrong address due to the tension between military brats and townies.
Naomi excuses herself from debate club after getting word from Annabelle that there was a stunt underway in the Square involving Superman. However, she starts to hear a faint buzzing sound before becoming dizzy and collapsing to the ground. She lays there, barely conscious enough to see Superman flying above her. Naomi awakens to the sound of sirens and frantic townsfolk, who all claim that the Man of Steel was fighting a blue villain in the sky. However, the consensus is that the attack was merely a stunt.
After visiting Lourdes at the shop, who unfortunately didn't know anything about the stunt, Naomi returns home to have dinner with her parents, where they discuss the stunt in the Square as well as Naomi's various suitors, from Nathan, to Anthony, to Lourdes. After dinner, Naomi rides to the Square and begins taking photos of the aftermath of the alleged stunt, during which she discovers that at least one of the security cameras have been damaged.
Naomi becomes more determined to get to the bottom of the stunt and suspects that something bigger is amidst, as she has been feeling different since the stunt. Naomi goes to Nathan, who helps her clip the various videos together, which details a fairly realistic account of Superman's battle. They notice Dee exchange looks with Superman. The video seems to indicate that they know each other, which Naomi decides to further investigate, but she is surprised when Dee makes reference to her glasses and adoption date, before revealing that he was behind the stunt for publicity for his shop, which Naomi reports to the followers of her sight.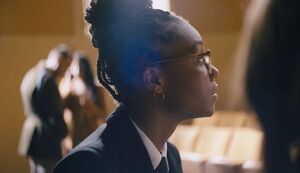 Naomi is chosen as one of two participants in the debate before the dignitaries. Her parents are so proud of her that they allow her to drive the car, but she can't get pass her interaction with Dee and asks her parents if they know him, as he acted as if he knew her, referencing her glasses and adoption date, but they insist they don't. And so, Naomi goes to the debate as planned, where she once again hears the buzzing sound and faints. When she awakens, she discovers a new-found ability, enhanced vision, which allows her to see the words written on a slip of paper being passed around between military personnel several feet away. It reads: "Evidence of Superman landing discovered in Red River Forest." So, Naomi heads to the forest, where she finds an ancient disk and has an encounter with Zumbado, which causes her abilities to briefly manifest.
Naomi plots with her friends to break into Zumbado's dealership. Inside, she finds a news article from March 14, 2004, the day of her adoption, detailing a mysterious flying object appearing over Port Oswego. One of the photos capture Dee, who doesn't seem to have aged a day since then. Meanwhile, the others discover a locked safe, however, Zumbado returns and they escape.
With this information, she returns to Dee's shop and asks him what he meant when he said she wasn't asking the right questions. She now realizes that he wasn't behind the Superman stunt and wants to know why he lied. He admits to being there on the day she was adopted and that there was another mysterious encounter. Naomi recalls hearing buzzing, which Dee suspects may have something to do with people like them. When Naomi inquires further, he sprouts a large set of metal wings from his back.[2]
The UFO crash of 2004
After learning from Dee that they're both aliens, Naomi asks her adoptive parents about the details regarding the death of her birth parents, but given that it was a closed adoption, they have little to offer in terms of information. And so, Naomi heads to school, where she unknowingly agrees to go out on a date with Anthony.
After school, Naomi meets Dee by the old bridge, from which he instructs her to jump, assuring Naomi that she'll defy gravity and won't even make a splash. However, she is hesitant, even as Dee points out that she's never been injured a single day in her life. Still, she is reluctant to believe that she's an alien and unwilling to jump down into the river. She further denounces the existence of superheroes and aliens. Instead of jumping, she declares that she'll find the crash site and figure out what really happened that day. Dee jumps off the bridge instead and spreads his metal wings. As he hovers above the bridge, he tells Naomi that she is an alien and that finding the crash site won't change that.
With help from Annabelle and Jacob, Naomi begins to dig further into the UFO crash that happened on the same day she was adopted. They head out to Falls Creek, where they believed the UFO crashed. However, rather than finding any evidence of an alien encounter, Naomi's hearing amplifies without warning, and she can hear everything around her, from the snakes in the grass to the spider crawling its web, which she reveals to Annabelle alone.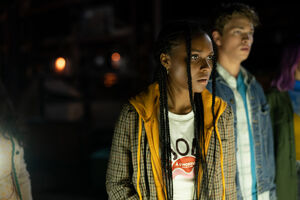 Having gained a bit more insight on the crash from Steve O'Brien, a local man who witnessed the 2004 event, Naomi and her friends return home, where after a bit of reasoning from Annabelle in regard to accepting her truth, Naomi discovers the mill on a Pacific Logging map, previously mentioned by Steve. They get a ride from Lourdes, and together, they investigate the mill, where they find alien markings on the wall until being confronted by Zumbado. Naomi conjures her powers, but Zumbado knocks her down and warns Naomi to stop what she's doing.
Naomi genuinely wanted Dee to be wrong, and she told herself that if she could prove that something else happened on March 14th, then her life could go back to normal, but she realizes that will never happen. Now that she's accepted her truth, Naomi returns to Dee's shop in search of guidance, and he proceeds to train her, starting back at the bridge, from which she jumps this time around.[3]
Stealing the disk from Zumbado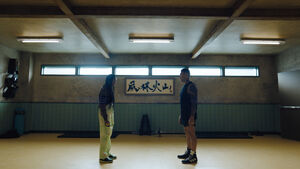 Naomi does a bit of training with Dee before heading to school and meeting with a Hartford College rep to discuss her potentially attending the university. Afterward, with Zumbado distracted by a customer and Annabelle as lookout, Naomi uses her abilities to break into Zumbado's safe and steal back the disk. With the disk in her possession, Naomi and her friends decide to sneak away from the tour at Central Oregon and break into their geology lab to test the disk, but their plan goes awry, the disk vanishes, and they are taken to the principal's office, where Naomi is scolded by her mother for her recent behavior.
Naomi meets back up with Dee, who introduces her to Adam Blake, an old friend of Dee's who's also an alien and reveals to Naomi that the disk is an ancient form of encrypted communication. Adam can read energy signatures and grabs Naomi's hands. He discovers that Naomi is connected to the disk, as it matches her energy, almost as if she's its key, but the disk she had today was a fake and made of different energy. Naomi, however, still can't read the disk because the language is only one of the disk's secrets, but every language can be translated. Suddenly, Naomi's super hearing alerts her of a special ops team moving in on Adam's hideout. Adam distracts the intruders whilst Naomi and Dee slip out.
Naomi returns home, where her phone is taken away and she is grounded by her parents for lying to them. However, this doesn't stop Lourdes from sneaking into Naomi's room and helping her realize that the translation key for the disk may be buried somewhere in the underground bomb shelter, which Naomi decides to investigate along with Annabelle. As expected, they find the translation key, but it is buried beneath rocks, and so Naomi uses her powers in an already unstable tunnel, forcing her and Annabelle to flee before the building falls down on top of them. Naomi then reports to Dee about her findings. She was able to translate the markings on the disk, it said "The Twenty-Nine."
Naomi sneaks back into her room and begins writing her admissions essay. And the following day, her parents take her out to the location where they found her, in a clearing in the woods, where embedded within the ground, is a large alien object that resembles the disk, even more so when it glows as Naomi places her hand on it.[4]
Powers and Abilities
Powers
Unique Physiology: Due to her alien physiology, Naomi has demonstrated several abilities.

Enhanced Vision: The first of Naomi's manifesting abilities. Her enhanced vision grants her a sense of sight beyond that of any human and allows her to perceive things with greater acuity, such as the message regarding Superman that was written on a piece of paper and being passed around by military personnel.
Super hearing: Naomi has super-sensitive ears, able to hear virtually any sound in the distance, as she was able to hear the military before they breached Adam's hideout.[5] More impressively, when she and Annabelle, were in the forest, Naomi was able to hear everything in her immediate surrounding, from the snakes in the grass to the spider crawling its web.[6]
Ergogenesis: Naomi is able to generate energy and use the energy in her body for various purposes such as destroying the safe lock in Zumbado's office or making objects move around her.[5]
Abilities
Multilingual: Naomi speaks nine languages, including French, Japanese and German, etc.[1]
Skateboarding: Naomi is a skilled skateboarder.
Weaknesses
Power Instability: Naomi didn't seem to really understand the upper limits of her power and still lacks control over her superhuman abilities as well.[7]
Appearances
Trivia
Naomi is based on the DC Comics character and eponymous comic book series of the same name. Naomi made her first appearance in the DC Comics in 2019, in "Naomi (Volume 1)" by Wonder Comics, originally created by Brian Michael Bendis, David F. Walker, and Jamal Campbell.
Her last name, "McDuffie," is in honor of and tribute to the late comic book writer and creator Dwayne McDuffie.
Naomi was adopted on March 14, 2004.
Naomi is also a huge fan of Superman.
Gallery
References